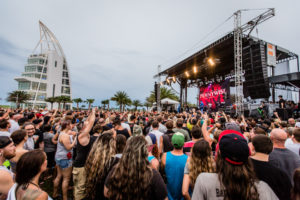 The new Exploration Tower officially opened November 4, 2013 as part of The Canaveral Port Authority's 60th anniversary celebration! It's one of the many attractions you can enjoy on through the diverse Port Canaveral.
Strategically located on the East Coast of Central Florida, The Canaveral Port Authority is dedicated to efficient, productive port facilities, while providing an enriched family oriented experience to the public. The Canaveral Port Authority has four main lines of business including cargo, cruise, recreation and real estate.
Exploration Tower is among our newest and most enjoyable recreational offerings. Visit our beaches and parks for camping, boating and fishing, or stroll through our restaurants, lounges and shopping and of course concerts. The venue has hosted The Beach Boys,Clint Black and others.